January 8th, 2015
Recently Barrack Obama became the first president to be completely scanned using
Artec 3D scanners
. As reported by the White House, USA the following video showcases the first ever 3D presidential portrait created using Artec Eva to scan President Obama.
Artec Eva
was brought into play to make a high-resolution 3D scan of the president's head. The president was asked to sit still for 90 seconds, while two 3D digitization professionals circled him with Eva scanners. Those in the room could see the image emerging on the laptops tethered to the scanners in real time.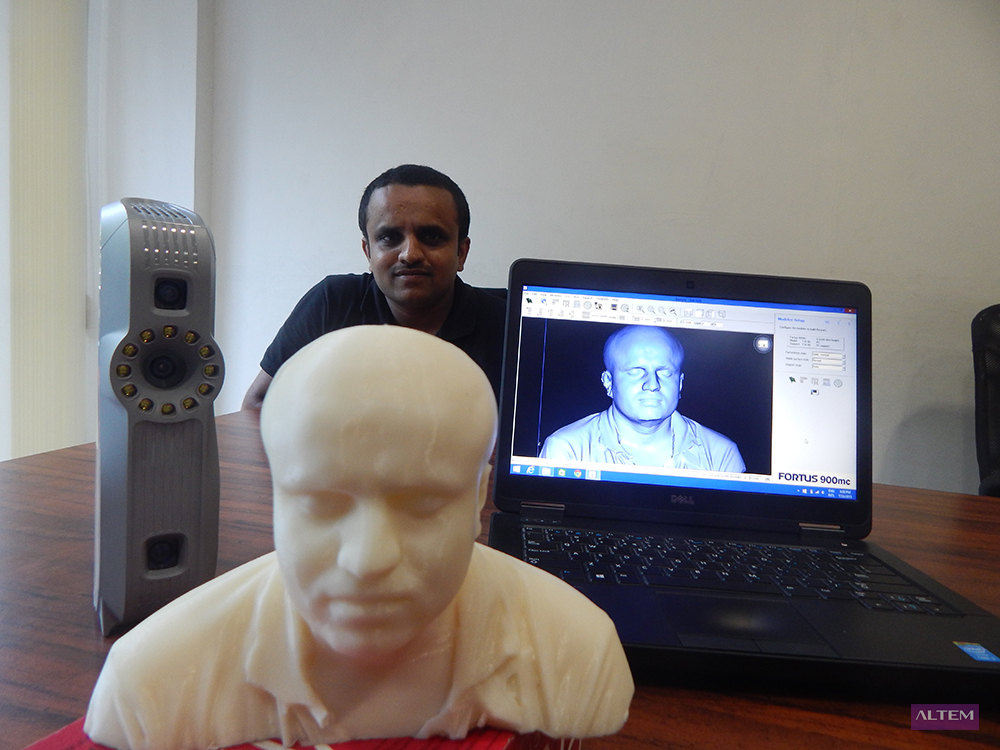 Taking clue from the same, at Altem Technologies Bangalore, India office we scanned our colleague Harish in just a couple of minutes and 3D printed him on our
uPrintSEplus FDM 3D Printer
. You may see the results in the below snaps. One may notice that, the scanner is able to capture quite minute details of the body profiles, which are promptly re-produced by the 3D printer.
Using the same, professional 3D Scanner, Artec Eva, one can do a full body 3D Scan, create 3D Selfie or even use it for prosthetic applications. Artec 3D Scanners present no safety risk to people. They do not produce the sort of magnetic radiation that can damage medical instruments and there is no need for special markers. These advantages an account for their popularity in medicine & related disciplines, viz Plastic Surgery, Orthopedics & Prosthetics, Wheelchair, Ophthalmology…etc