December 30th, 2016
Conzumex Industries Pvt. Ltd. is an IIT Madras incubated startup based out of Chennai. We design, develop and sell consumer and wearable electronics, mobile software, online services and custom wearable products. With Muse Orthotics we focused on designing and developing custom fit products taking into account user's unique Biomechanics, problems and preferences to give personally tailored solutions to each and every one to provide added comfort and care.
"We believe your unique footprint needs COMFORT & CARE". We at Muse strive to provide custom fit insoles tailored to your feet and their unique requirements. The 3D printed insole provides comfort and relief for your feet as it is designed taking into account your unique foot shape including arch height, metatarsal width and heel cup. We have a convenient APP for you to order a pair of custom insoles from the comfort of your home. Using our Smartphone APP you can click just 3 pictures of your foot and enter your preferences to get an insole made just for YOU.
Our machine learning algorithms seamlessly recreate a precise 3D Model of your foot from the app, and match with the 3D Models of huge database of Indian foot. This 3D Model is used to generate your biomechanically enhanced insole. Thus, as the process of creating the database and to enhance the accuracy of the app output several foot of people with different age, Size, gender has been 3D Scanned by Altem Technologies.
It was a typical Bangalore foggy morning on 25th December 2016 at Decathlon, Surjapur. Decathlon conducted a Christmas Run Marathon at 6AM in the morning. There were few hundreds of participants who started their run with a ZUMBAstic warm up. Altem Technical team along with us, had the Foot Scanning booth inside the Decathlon Showroom. Once they have completed their run we started to scan their foot one by one with our app and Artec 3D scanner. For this project they used Artec Eva 3D scanner, the only Professional 3D scanner for small to medium-sized objects capable of capturing surfaces in detail with extreme ease of use and handling. It is a structured white light based scanner which is harmless for scanning any part of human body.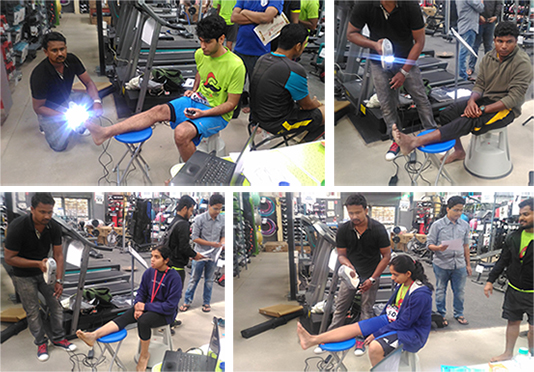 Runners were excited to see their own foot being scanned and 3D model of the same is created in no time. The portability and easy handling of Artec 3D scanner helped to capture the foot in all possible angles to get the unique shape and surfaces of the foot with high precision.
Unlike the typical 3D Scanners in the industry which are to be mounted at a place in a laboratory condition and require markers which acts as references for scanning, Artec 3D scanner is handheld and doesn't require markers which is revolutionary and can help in many industries in a big way for digitizing the physical objects for various purposes.
After scanning, the data has been processed in Artec Studio 3D object software which yielded a precise, textured 3D image of the foot. This output will serve as a database for Muse Orthotics as well as helps us to develop the 3D reconstruction of the pictures from their mobile application. This will help us to produce more accurate & customized insoles.
Altem Technologies will help us create the final 3D model of the insole and get it 3D Printed using a Stratasys 3D Printer, in FDM(Fused Deposition Modelling) Technology. Stratasys 3D printers being the best 3D printer in the world, prints a very smooth and accurate surface of the soles. Once we print the sole, we cover the rigid 3D printed sole by a preferred material of Leather/ Anti-Bacterial/ Deodorizing on the top surface to provide added comfort and preferred colours in the back shell of the insole. These soles will be sent to the people whose foot were scanned for trail runs.