March 6th, 2015
Today, I am very happy to announce that
Altem
through an initiative from Good Shepherd International School, Ooty, Tamil Nadu , India introduced
3D Printing Technology
, which influenced and motivated many budding young minds to understand, look through it and experience the magic behind 3D Printing. The school management is very happy at students and faculty member's positive feedback on machine printing "
real-time 3D objects
".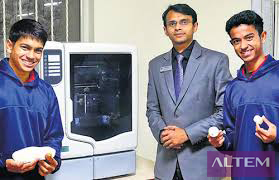 Mr.Kiran Gopinath, an IIT alumni, a month before procurement visited us from Good Shepherd International school as part of evaluation process to see
uPrintSEplus
at our Altem Technologies, Bangalore demo center, was very keen on implementing professional 3D Printer with a long term view. As a matter of fact he has evaluated several 3D Printer including few low cost and hobbyist systems. He was impressed with consistency of the parts and sturdiness of the System besides the vast and credible installed base.
Also, students can invest quality time in their thought process rather than spending unnecessary time in model making. The 3D printing technology has created a strong bridging between concept generation stage and product evaluation stage. This technology has done enough miracles in the field of model making without compromising quality and precision , and as remarked by Mr. Kiran, the school believes that technological advancement makes inevitable changes in the upcoming educational landscape.